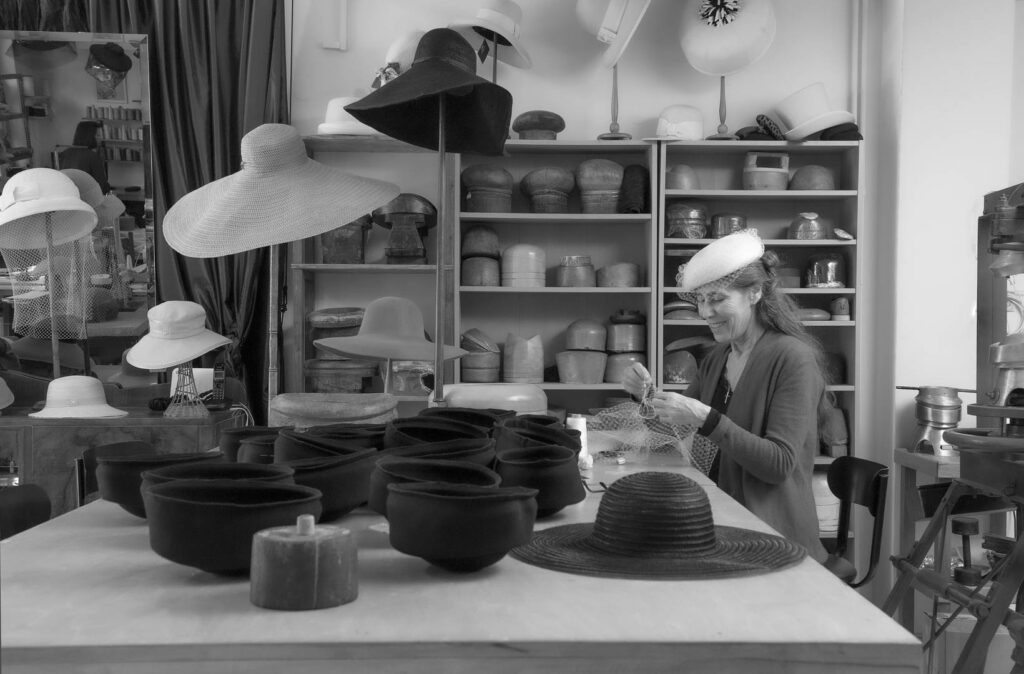 Katerina Karousou has been working in the field of fashion for the last 43 years. Her story begins in 1979 when she decided to immerse herself in the art of hat making. At first, she encountered closed doors, but her stubbornness and persistence prevailed. Then, in 1984 she moved to New York, where she studied at the Fashion Institute of Technology (FIT) in the Millinery Class, from which she graduated in 1986, mastering the technique for all kinds of handmade hats. She remained in New York for 6 years, during which time she worked for Carolina Herrera, Eric Javits, and Liz Clairborne.
Equipped with the American experience, she returned to Athens with a vision of keeping the art of hat making alive. She soon realized that the art was gradually fading away and decided to proceed with the collection of materials and equipment left behind by the craftsmen of the time. Today, she has, among other things, a wide range of high-quality Swiss materials from the Geflechtfabrik Tressa AG factory of the 1970s, which are no longer produced.
In 1990 she founded her own business which she named after herself – "Katerina Karoussos" – based in Kolonaki at 4 Skoufa Street. Her business flourished by itself during the 1990s. She remained faithful to her art, possessing innate talent, creative imagination, and charming aesthetics.
Katerina Karousou is today considered the leading designer-creator of handmade hats in Greece and one of the most high-noted in Europe. Her products are exhibited in European exhibitions, while her fame has spread to Asia. Her hats have been worn, by famous and the not so famous, both at royal weddings and horserace events, as well as in simple moments of everyday life. She also oversees the headwear of the Presidential Guard, as well as Aegean Airlines and Olympic Air.
Katerina Karoussos' hats will signify the necessary touch of finesse and elegance that will complete your style by capturing all the attention to you.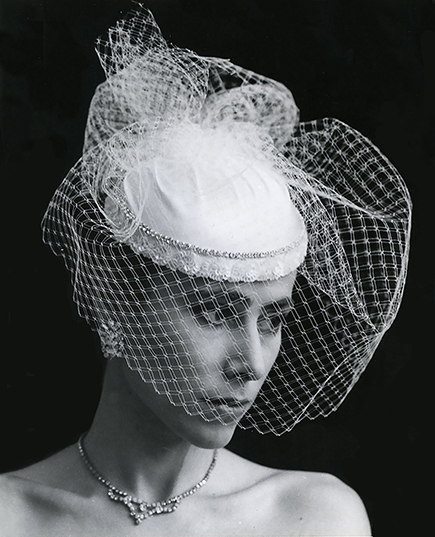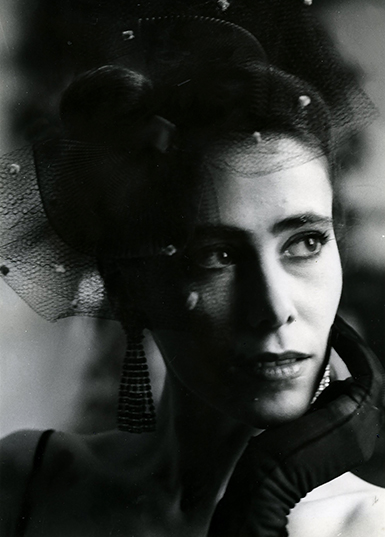 "The hat creates the style. The same clothes with different hats change the style. "
Katerina Karoussos
Stockist
Attica
Hondos Center: Omonoia Square 4, Omonoia, Zip code: 10431 – Τ.: 210 5282856
Hondos Center: Agiou Konstantinou 2 & Lazaraki 5, Glifada, Zip Code: 16675 – Τ.: 210 8910934
Benaki Museum: Koumpari 1, Athens, Zip Code: 10674 – Τ.: 210 3453111
i-D Concept Stores : Kanari 12 & Sekeri 8, Kolonaki, Zip Code: 10674 – Τ.: 210 3221801
Milos
Thivoli Art Space, Simakos Gregory, Plaka Milou, Zip Code: 84800 – Sophia Pagoni: +30 6971894056
Paros
Anthologist, The products are located in various stores, Pavlina: +30 6989397743
Patmos
Tara, Agios Ioannis, Skala, Patmos, Dodecanese Islands, Zip Code: 85500 – Τ.: 224 7031335
Mykonos
Annou's Boutique, Agios Gerasimos 8, Chora Mykonos, Zip Code: 84600 – T.: 228 9305042